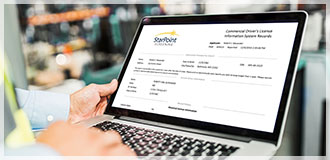 Mandated by the Commercial Motor Vehicle Safety Act (CMVSA) of 1986, StarPoint Driver Screening's CDLIS report supports the issuance of commercial driver licenses (CDLs) by the jurisdictions, and assists jurisdictions in meeting the goals of the basic tenet "that each driver, nationwide, have only one driver license and one record" through the cooperative exchange of commercial driver information between jurisdictions.
"This report will help employers get a much more comprehensive overview of their drivers," said Kelly Gontarski, president of The L.I.G. Group which owns StarPoint Driver Screening. "The employer will be able to verify that the driver they are putting on the road does not have a past violation from a state they were previously licensed in which would disqualify them as a safe employee."

StarPoint Driver Screening's CDLIS report allows employers to check the "Commercial Driver's License Information System" for prior licenses, to verify their current CDL and review up to three prior licenses held by the driver. The CDLIS allows employers to be compliant with FMCSA requirements (§ 391.21-391.27).

The CDLIS report will provide StarPoint's users with the driver's present jurisdictional state, driver's license number, name, date of birth, social security number validation, up to 3 CDL numbers previously held and any alias information available.

StarPoint Driver Screening's launch of the CDLIS report rounds out their complete screening menu for Employers and Motor Carriers, which includes Motor Vehicle Driving Records (MVR), Pre-Employment Screening Program (PSP) U.S. DOT Records, and criminal background searches.

Employers and Motor Carriers need only to sign up online with StarPoint Driver Screening in order to be granted access to order CDLIS reports, MVR Driver Record reports and other background screening reports.